Welcome!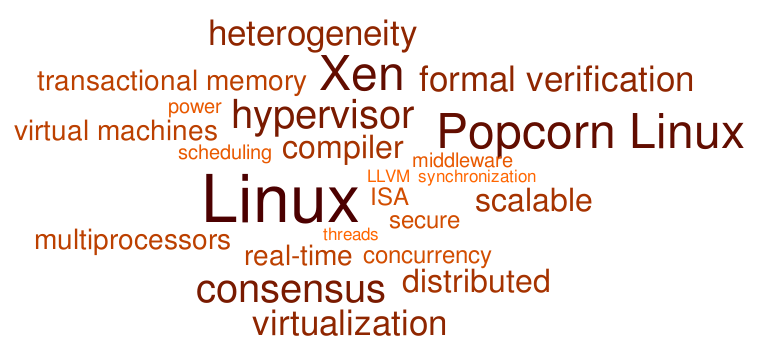 Welcome to the homepage of the Systems Software Research Group in the Bradley Department of Electrical & Computer Engineering at Virginia Tech. The group's general research areas include operating systems, concurrency, distributed systems, real-time systems, virtualization, run-times, compilers, and middleware. A cross-cutting goal is to understand how to build software systems -- broadly defined -- that are high-performance, scalable, reliable, and secure. Ongoing projects include operating systems, hypervisors, and compilers/run-times for multicore and heterogeneous architectures; scalable and secure concurrency control and consensus algorithms; and scalable verification of systems software.
News
LLRM project's FMUC paper has been nominated for award!
LLRM
project's
FMUC
paper has been nominated for the
TACAS 2020
EASST Award for Systematic and Rigorous Engineering of Software & Systems. Congratulations LLRMers!
We are recruiting!
See our recruitment advertisements for various research positions
here
.
Selected Publications
HEXO: Offloading HPC Compute-Intensive Workloads on Low-Cost, Low-Power Embedded Systems, P. Olivier, A. F. Mehrab, S. Lankes, M. Karaoui, R. Lyerly, and B. Ravindran, The 28th ACM International Symposium on High-Performance Parallel and Distributed Computing (HPDC'19), June 24-28, 2019, Phoenix, AZ, USA
Highly Automated Formal Proofs over Memory Usage of Assembly Code, F. Verbeek, J. Bockenek, and B. Ravindran, 26th International Conference on Tools and Algorithms for the Construction and Analysis of Systems (TACAS 2020), April 25-30, 2020, Dublin, Ireland
LibrettOS: A Dynamically Adaptable Multiserver-Library OS, R. Nikolaev, M. Sung, and B. Ravindran, 16th ACM SIGPLAN/SIGOPS International Conference on Virtual Execution Environments (VEE 2020), March 17, 2020, Lausanne, Switzerland